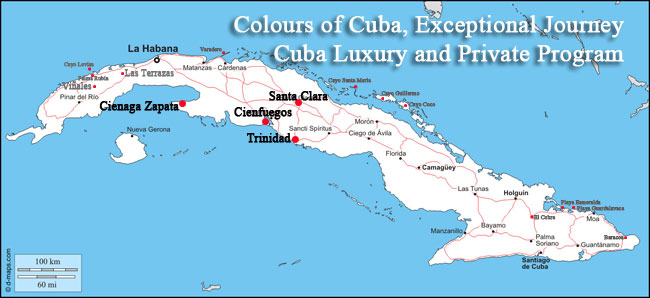 Itinerary
Day 1 HAVANA
Arriving into Havana airport you will be met by your tour leader and transferred to your hotel.
Arrival at Havana International Airport Jose Marti.
The Saratoga hotel is centrally in central Havana and makes it an ideal base for exploration. It is distinguished for its elegant eclectic structure predominantly neo-classic style with a view of the prestigious Partagas Cigar Factory and the Grand Theater of Havana and the Capitol Building. The Saratoga is a 5 Star Superior hotel with 96 rooms distributed in 13 floors that make up the construction. It is now on of the most luxurious hotel in Havana with excellent services and very good Mediterranean and international cuisine.
The rest of the day is at leisure. Your Tour Leader will be to your disposal for recommendation of things to do and how to get it.
Havana (known locally as La Habana) is the centre of all things Cuban and to walk around its streets is like being on the set of a Hollywood movie. 1950s and 1960s American cars cruise wide boulevards, while paint peels from glorious Spanish colonial buildings. Old men in straw hats puff on huge Cuban cigars as Cuban 'son' music fills the air; it's hard not to be drawn in by this evocative atmosphere. There is much to see in Havana and over the next days we explore both old and modern districts.
Accommodation: Saratoga Hotel.
Day 2 Havana
08:00 Breakfast
This evening you will meet your leader at the Hotel and head out to La Moneda Cubana Restaurant located on the side of the Cathedral Square. That is a family restaurant private restaurant, it is a building built in 1862, and was one of the first Bodegas built in Old Havana as a food and liquor warehouse.
Accommodation: Saratoga Hotel.
Meals included: Breakfast & Dinner.
Day 3 Havana
Breakfast.
This morning we take a walking tour in the Old Town with a local historian. We take in various squares such as Plaza de Armas, Plaza de la Catedral, Plaza de San Francisco de Asis, Plaza Vieja (Old Square) and Plaza de Cristo. We also visit the Palacio de los Capitanes Generales (which now houses the City Museum) and the impressive Capitolio Nacional, which is remarkably similar to the US Capitol Building in Washington DC. Stopping outside the Morro Cabaña Fortress, we enjoy great views of the city looking back on the famous waterfront esplanade known as the Malecon.
We end our walking tour at Ernest Hemingway's old local, La Bodeguita del Medio where we stop for a drink. El Floridita Bar and Restaurant, the place of the Daiquiri, could be also visited. It can be a little busy with tourists but still a must visit for the good mojitos & live bands playing local Cuban classics.
The rest of the afternoon is at your leisure to further explore on your own. You could easily spend your time wandering the streets and taking in the colours and sounds of this lively city.
This evening we are in for a special treat. We are collected from our hotel in classic American Vintage cars and enjoy a panoramic tour of the newer part of town where we see Revolution Square, Miramar Vedado and Havana University before our final stop of the historic Hotel Nacional. Here we enjoy a private tour and narrative on its fascinating history by one of the staff. Considered a national monument, the hotel was built in 1930 and overlooks the Malecon and Havana Harbor. Over the years, the Nacional has hosted many international dignitaries and well-known entertainers, as evidenced by the photographic memorabilia displayed throughout the hotel.
Afterwards we enjoy dinner and a performance by the Buena Vista Social Club at any of the sites where they are playing at the Hotel Nacional, Hall 1830 opr at La Taberna Benny More or at Havana Café or El Guajirito.
Accommodation: Saratoga Hotel.
Meals included: Breakfast & Dinner.
DAY 4 Havana
Breakfast.
This morning we enjoy a private tour of Partagas Cigar Factory. Founded in 1845, this is Cuba's largest and perhaps most renowned cigar factory, producing around 5 million cigars a year. The off-yellow and rust-trimmed neoclassical facade is resplendent in the morning sunlight.
The rest of the afternoon and evening is at your leisure. Your leader will be on hand to offer suggestions on how to fill your day and also which restaurants to visit for lunch and dinner.
Accommodation: Saratoga Hotel.
Meals included: Breakfast.
DAY 5 Havana - Cienfuegos (via Bay of Pigs)
Breakfast.
Today we head to the French founded city of Cienfuegos, an important port town founded by French settlers from Louisiana in 1819. This history gives it an air and architectural style that is distinct from that of the rest of the island.
We travel through the densely vegetated Peninsula de Zapata swamp-lands, and along the beautiful Bay of Pigs. This is where the landing of counter-revolutionary exile militia occurred in 1961. There is a museum here that recounts the events of this conflict which resulted in the first defeat of a U.S backed take-over in Latin America.
We will also make a stop at a beautiful swimming hole (cenote) which resembles a huge natural tropical fish tank, and if the conditions are favourable you can enjoy snorkeling at the beach.
Cienfuegos appeal lies partly in the European flavour of its colonial hub, with a wide Parisian-style boulevard and elegant colonnades, and there is an ambience to inspire Cuba's most celebrated Son singer Benny More to write the words "Cienfuegos is the city I like best".
Accommodation: Cubanacan Boutique La Union (Upgrade to Junior Suite).
Meals included: Breakfast.)
DAY 6 Cienfuegos - Trinidad
This morning after breakfast we enjoy a walking tour of Cienfuegos. The city was declared a Cultural Heritage of Humankind site by UNESCO and is worth exploration.
Afterwards we drive to Trinidad. The town and its surrounding hills were also declared a World Heritage site by UNESCO in 1988. Established by the Spaniards in 1514 and lined with cobblestone streets and colourful houses, the town of Trinidad is easy to wander around and almost every scene offers superb photographic opportunities, from locals casually smoking their huge cigars on the doorsteps of their homes to old Chevrolets cruising by. It is easy to see why Trinidad is one of the most visited towns in Cuba and the afternoon has been left free for your own explorations for this very reason.
This evening we enjoy dinner at a local paladar, Sol Ananda Restaurant.
After dinner accommodation will be at one of the Cuba Best Hotel boutique, the Iberostar Grand Trinidad.
Accommodation: Iberostar Grand Hotel Trinidad
Meals included: Breakfast & Dinner.
DAY 7 Trinidad
Breakfast.
Today we embark on a walking tour of this small, charming town. We will visit the Romantic Museum, which is located right by the evocative Plaza Mayor and houses a collection of beautiful period pieces. We also stop at the Canchanchara Tavern and sample its famous cocktail made from rum, honey and lemon.
This afternoon we visit the Valley of the Sugar Mills, the ruins of the plantations that were once worked by slaves. The grounds of former sugar magnate Manacas Iznaga are probably the most impressive, with Iznaga's house and much of his farms being preserved today, with the most striking feature of his property being the tall tower that bears his name. According to Cuban legend, Iznaga built the tower so he could overlook his lands and keep watch of the many slaves who worked his fields.
Afterwards we have the opportunity to chat with villagers in Manaca Iznaga while enjoying a glass of cold sugar cane.
Returning to the hotel in the late afternoon the rest of the day is at your leisure.
There is open-air music on most evenings at the Casa de la Musica, which spills over in the cobblestone stairway on the side of the main church.
Accommodation: Iberostar Grand Hotel Trinidad.
Meals included: Breakfast.
DAY 8 Trinidad - Cayo Macho Boat Cruise
Breakfast.
Today we board a private charter for a journey across the water to Cayo Macho. This coral key, renowned for its pristine white beaches and thick mangroves teaming with bird life, is a great place to go swimming and snorkelling.
We spend the day exploring the area and dining on a tasty seafood lunch before returning to Trinidad for the night.
Accommodation: Iberostar Grand Hotel Trinidad.
Meals included: Breakfast & Lunch.
DAY 9 Trinidad - Santa Clara - Havana
Breakfast.
This morning after breakfast, we head back to Havana. It's a long day on the road and on the way we travel via the city of Santa Clara, the site of a major battle in the Cuban Revolution. It was here that Ernesto Che Guevara defeated government troops, even though his forces were significantly outnumbered. Upon hearing of this defeat President Batista fled Cuba, thus assuring victory to Fidel Castro and his revolutionaries.
Murals of Che Guevara and revolutionary slogans are plastered all over the city, commemorating the significant part it played in the revolution. We visit the Tren Blindado (Armoured Train) Monument, which marks the spot where the actual victory took place. Che Guevara was killed in Bolivia and his remains were uncovered and identified in 1987. They were brought back to Cuba and interred in Santa Clara along with those of other revolutionaries who were killed with him.
We visit the impressive Ernesto Che Guevara Monument which is part mausoleum, part museum and undoubtedly one of the most significant memorials in the country. We also visit the Che Guevara memorial and the Armoured Train.
Arriving in Havana late afternoon, you have some time to rest after your day on the road, before we head out to our final dinner at Café de Oriente at Square San Francisco de Asís in Old Havana.
Accommodation: Saratoga Hotel.
Meals included: Breakfast & Lunch.
DAY 10 DEPARTURE
Breakfast.
The morning is at leisure – you may choose to have a lie in, enjoy a swim or do some last minute souvenir shopping before you are transferred to the airport for your onward flight.
Meals included: Breakfast.
END OF SERVICES
Included:
Accommodation in B & B as indicated in the Program.
Meet and Greeting at the Airport.
Private Transfer In.
Tour Guide in full command of English and/or other foreign language for the whole staying in Cuba.
All the tours as indicate with the Entrances pointed out in the Program, with explanation of Specialist when mention.
Private Transportation for all the tours.
Luncheons and Dinners as indicated.
Transfer Out.
Not included:
Airfare.
Tourist Visa.
Medical Insurance.
Services not mentioned in the Program.